The search for the most versatile overland trailer that would serve as a great basecamp and workspace for off grid working.
First let me explain why an overland trailer. For the past couple years working as a digital nomad I have been using a Gazelle T4 Hub tent as an office while using either a CVT Mt. Shasta tent or more recently my iKamper Skycamp mini as a sleeping tent that is mounted on the back of my 2019 Toyota Tacoma.
So I decided to pull the trigger on an off-road capable overland trailer after a couple years of researching and touring different tailer setups. I was able to experience several different trailers at the 2022 Overland Expo West in Flagstaff, AZ. I've never owned an off road camping trailer of any kind before so this is a whole new world for me.
Here is a list of features I was looking for:
Dry weight less than 3,000 pounds
Decent water storage
Heat
Ability to not only sleep but also sit inside to work
Capable of off-road travel – no rear axle, independent suspension
Off road tires
Power
Fridge / freezer combo
360 degree hitch
270 degree awning
Kitchen sink and stove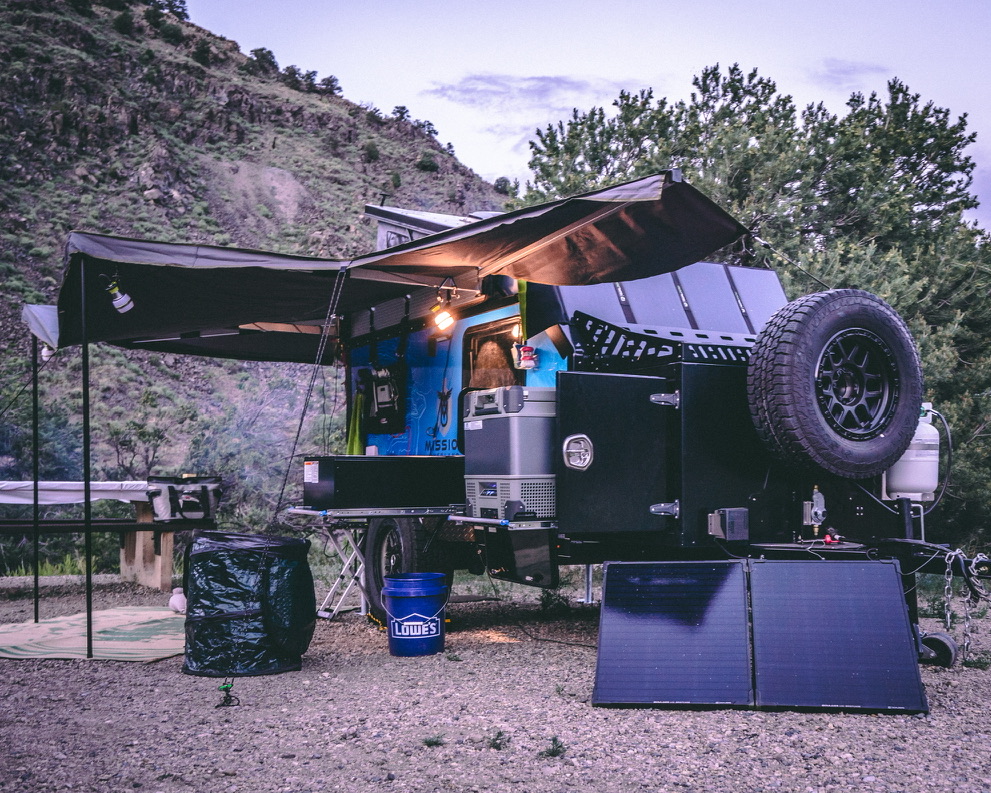 This was a slow purchase process as I didn't want to have any buyers remorse. I know that recreational vehicles can have their quarks and I certainly have experienced a few, the first was within the first 24 hours of ownership. Even though there are a couple trailers that I seriously considered that didn't check every box (the ability to sit inside to work was the hangup) I ultimately decided to go with the Mission Overland Summit.
The overland trailers that ended up being on the final short list were the following:
The Boreas XT is an attractive choice because they're actually baed in Pueblo, CO. which is very closed to me and I love the build quality of their trailers. I would have selected that trailer if it weren't for the need to be able to use the trailer to work in as well as sleep in. That was the deciding factor for me and I'm still planning to own a Boreas XT trailer at some point in the future. My parents are putting in an order for one at the end of the year. This was a difficult choice to make but I ultimately went with the Mission Overland Summit because of the unique design with the pop-up roof which allows room for the bed to convert into a table and benches on either side. This single feature is the one alone which swayed me to the Summit overland trailer.
Here are the key features of the Mission Overland Summit Overland Trailer:
KEY FEATURES
Clam shell retractable roof
Large windows, bug screens, and privacy blinds
76 inches (6'4″) of standing room when roof is popped
TRUMA Combi Eco heating & hot water unit
Fully insulated walls, ceiling, & floor
Queen bed with 4" medium density foam
Wooden swivel table with seating for 4
External hot water shower
Slide out dual zone 69 liter fridge & freezer
Slide out kitchen with dual burner stove and sink
On demand hot water
37 gallons of fresh water storage
Timbren axle-less suspension
22 inches of ground clearance
Nine internal storage compartments
This is an introduction post as I have only been on a couple of trips with this trailer. I plan to continue writing about my experiences and challenges with my choice. I will be doing a six month review on this trailer as I feel in order to properly evaluate something like this I will need to run it through a lot of different trips and different climates. So far the only issue I've had thus far is with the passenger window struts. They broke the first day I owned it. They're really cheap aluminum and they unsprung when trying to life the window to close it. Otherwise everything has worked quite well. I will say I'm not as impressed with the customer service though as I have been trying to get new window hinges and my emails have gone unanswered so far. I will update this post as this progresses.
Here is a video of the introduction for those that enjoy video content. If you enjoy my videos please consider subscribing as it helps me grow and reach more people interested in the same topics.